Video Editing Internships
Find Out How!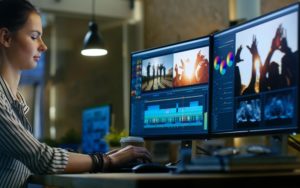 In 2017, the Bureau of Labor Statistics stated that the average hourly rate for a film editor is $40, making an experienced editor earn from $80,000 upwards. This makes the video editing industry a lucrative job position and many aspiring video editors are vying for this most coveted position.
The usual trick to be able to be ready for this kind of job is to have at least a bachelor's degree in film studies or film production and many students jump from that minimum degree to pursue a master's degree in video and film editing. For people who have crossed over to this industry later in life and already have a different bachelor's degree, there are online classes and workshops available that could train you and give a certificate of your completed video editing course.
But as they say, the experience is still the best teacher so a video editing internship is a crucial learning curve for anyone who wants to become a full pledge video editor. Although there is no guarantee of being hired at the same company after your internship, it is nice to work with different companies to know which one is best for you as companies offer different compensation, benefits, and working process. Do your best and you might find yourself being hired by different productions all at the same time (if you pursue freelance video editing)
Internship Focus
Different companies will give you different learning experiences but more or less they will have the same internship focus on the basics:
Working on the set of video shoots
Working on the conception of video production to execution
Working on storyboards
Working on different videos such as commercials, product videos, ad campaigns, and artistic shoots.
Working with clients and doing revisions
Participate in team meetings and working with a production team
Skill requirements
Although this is an internship, you will need to bring a great set of skills in order to work productively with professionals. You will not learn anything in a professional environment if you have not even pat down the basics.
Experience in Adobe programs
Strong computer skills
Ability to work with a team and communicate efficiently
Most companies offering internships will not lend interns laptops and computers so you must have your own with the right spec for your internship.
If you are positive that you got the requirements above and you are excited to learn new things and master the skill of video editing then apply for an internship. It is a great way to learn and get professional work experience. You will face challenges that you are not able to experience in the comfort of your school setting, so you must be tough and be creative in solving video editing problems.
As a video editor, you are not just editing videos to make them look good, you are also a storyteller and you will be the one responsible for taking raw footage and organizing it to accurately depict and tell the story your team or your client wants.